CHA research fellow Darina Pellowska is invited as a speaker at the Humanitarian Leadership Conference taking place on 28 and 29 April 2021. On 29 April 2021 at 9:10 am CEST, she will present the topic
Managing Localisation.
Abstract of the presentation:
Since the World Humanitarian Summit, many humanitarian international NGOs (INGOs) developed dedicated localisation policies. Among others, they now increasingly work together with local NGOs (LNGOs), calling them their equal partners in humanitarian project realisation. Yet, voices from the ground claim that, in practice, this is by no means and equal eye-to-eye level working relation. Despite their commitment to the localisation agenda, INGOs still retain most decision-making power, with LNGOs just implementing INGO pre-set plans and projects. What impedes the implementation of localisation?
This proposed paper claims that among other factors it is the very authoritarian leadership style that is still prevalent in humanitarian partner- and project management, where bosses (typically sitting in INGO HQs) decide what to do and where to go. More inclusive management styles would contradict this dynamic and enable a more participative, even democratic interaction between INGOs and LNGOs, but also between teams inside organisations (may they be LNGOs or INGOS) and between humanitarians and other key stakeholders, thus fostering the localisation agenda.
The argument is based on 9 months of work experience with several organisations in South Sudan, where the author witnessed two widely practiced leadership styles which will be briefly described and confronted in the paper: The traditional authoritarian leadership style and a more participative leadership style. The contribution will close with the conclusion that, if taken seriously, localisation does not only mean to establish partnerships with LNGOS. It also means a change in project management culture inside and between (local, national and international) organisations.
---
Darina's presentation is part of the localisation panel, taking place from 8:30 to 10:00 am CEST, which includes the following four presentations: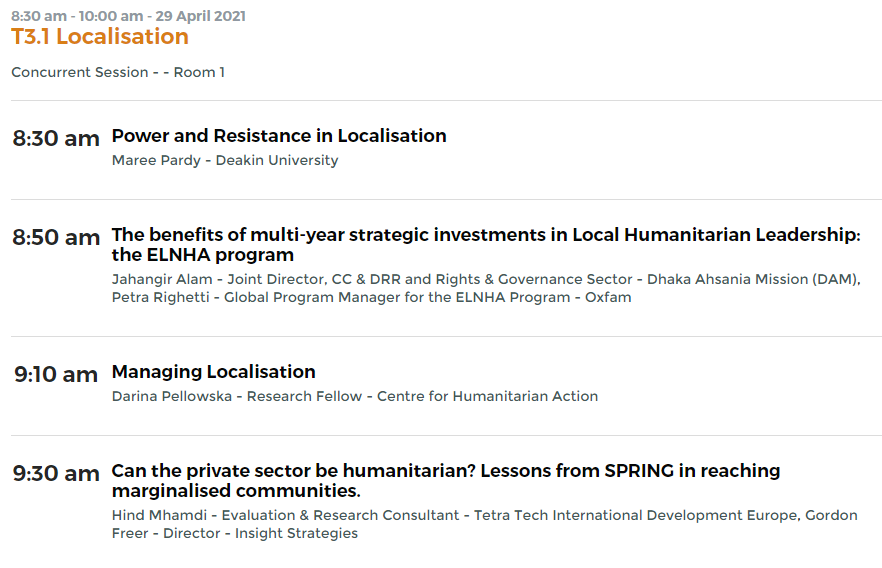 For more information on the 2-day conference and how to purchase tickets, please have a look at the official conference webpage.