Interview with Ishmeal Alfred Charles, Programme Manager of Caritas Freetown
Sierra Leone along with its neighbouring countries faced 2014 an unprecedented outbreak with the Ebola virus. Despite warnings from local organisations and MSF, the international response was slow to react to the escalating outbreak, which overwhelmed the national health systems. Ebola was unknown in Sierra Leone at the time, much like COVID-19 is now novel to most countries affected by the corona virus. Ishmeal Alfred Charles, Programme Manager with Caritas Freetown has witnessed the epidemic and in this interview he suggests key lessons learned and points out challenges for health systems in tackling novel diseases.
In your experience, what is being done wrong at the moment to gain control over COVID-19?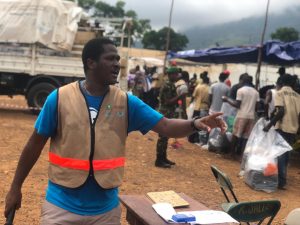 From my experience, countries in the global north do not follow up strictly enough with emergency response protocols. Many countries underestimated the situation and waited too long to take precaution measures such as lockdowns. In Sierra Leone in 2014 at the beginning of the Ebola outbreak, people were hesitant too when schools and colleges closed down and they could not eat their meals together or attend services at churches and mosques. During the Ebola outbreak, we learned the hard way that this is necessary – about 5,000 people died (official number). Despite having a single case yet, Sierra Leone has already banned all public gatherings of more than 100 people – even church and mosque services.
What are lessons that you learned from the Ebola outbreak in 2014?
The lessons that we have learned were very hard. We have learned not to take any public health emergency as a joke when it starts because by the time your know more, it starts running in double numbers and hundreds rapidly become thousands and then it becomes very difficult to contain and you will be overwhelmed to manage it.
The UN has launched a US$ 2 billion humanitarian appeal for worldwide response to COVID19, an enormous sum, but less than what the German federal state Niedersachsen is receiving by the German government. Thankfully SL has no Corona cases yet. What are your fears if Corona affects Sierra Leone on a larger scale and global attention is not even on the situation and its consequences in places like Idlib, Syria or Cox Bazaar, Bangladesh?  
Sierra Leone has not yet recorded a case of Corona virus but of course we are worried. We are very careful and are taking precautions. For example, we have closed airports and airspace. But the consequences of the pandemic already affect us heavily and focussing too much on containing virus means that we lose sight of economic and social priorities, which are dire for many countries but also for our country. The economic situation is already very tense in Sierra Leone. The prices for commodities like milk and sugar have hiked and will continue to multiply further because it is unforeseeable when the pandemic is going to end. Families who rely on remittances from relatives in other countries are not receiving the support they normally have. We are afraid that many people will be affected by food insecurity and poverty (see also study by the Global Policy Forum). Also, there is a lot of fear and panic: fake news are being spread on social media, which is resulting in political tensions. Those contentions and the news mongering is a very worrying situation.
In Germany, doctors fear that people are avoiding hospitals even if they have serious illnesses because they are scared to become infected. How did you manage the challenge to balance the needs of Ebola patients and those of regular patients in an overstretched health care system?
There was a public outcry when a girl could not receive help for a curable sickness and died due to complications. This was on the national news and made many young people furious. This showed that in fact many people were turned away from health centres for routine treatments such as pregnancy or high blood pressure. This caused more people to die from other diseases than Ebola. In fact, some medical professionals were denying their profession out of fear and stigmatisation, which unfortunately lead to more fatalities.
One of the challenges in any health emergency is the issue of trust. People need to trust the health care system, the authorities to effectively deal with the crisis and other citizens to follow with preventive measures? What were major challenges in this regard and what did you learn from them?
The issue of trust was very important because a lot of false information were spread, which included witchcraft, fake news or conspiracies. For example, people thought that that God had infected them with Ebola because of the sins they had committed. Similarly, the information that were spread by the government authorities which said that Ebola is not curable. But then people started surviving Ebola and also the official communication seemed unreliable. By synchronising the information messages and including religious leaders – imams and pastors – in the addressing their communities, we were able to stop the spreading of misinformation and build trust of people that Ebola was indeed real. We as religious leaders communicated that it is dangerous to wash dead bodies and that you need to wash your hands often, etc. This led to a drastic decline of new infections with Ebola virus disease and was a fundamental step in controlling the outbreak. Thus, we could help rebuild people's trust in our health system.
Sierra Leone was declared Ebola free in 2015, what challenges still remain?
One of the key challenges that remains is the care for survivors. There are 4,050 survivors of Ebola, about 11,000 orphans and hundreds of widows living in Sierra Leone many of whom depend on external support. For one, they still face a lot of stigmas – people think that survivors were also the ones who spread the disease, which killed about 5,000 Sierra Leoneans according to official numbers, unofficial numbers are even higher. Additionally, many survivors also need continuous medical support to treat side effects resulting out of their virus infection such as sore joints or eyes. Many also face economic hardships and poverty. We try to support them through mobile clinics but also through livelihoods programmes and psycho-social support to rebuild their lives and restore trust.
---
The interview was held on March 27, 2020 by Sonja Hövelmann.
Further Reading on Ebola