CHA is growing up: After its start-up phase that began in 2019, during which we gave birth to our think tank baby and raised it step by step, the Centre for Humanitarian Action is now embarking on an independent future. On 1 July 2021, our newly founded CHA e.V. will become active and at the same time we are pleased to welcome a new prominent partner: the German Red Cross (DRK) will become the fourth institutional partner of CHA alongside Caritas international, Diakonie Katastrophenhilfe and Doctors without Borders.
In addition to its institutional partners, CHA has been pleased for some time with its endorsing partners Help e.V., Islamic Relief and Aktion gegen den Hunger. As of 1 July, three more prominent organisations will join as supporters and financiers: Oxfam Germany, Handicap international and the International Rescue Committee (IRC). At the same time, CHA will no longer be part of the Maecenata Foundation, which was the project's legal entity in the start-up phase.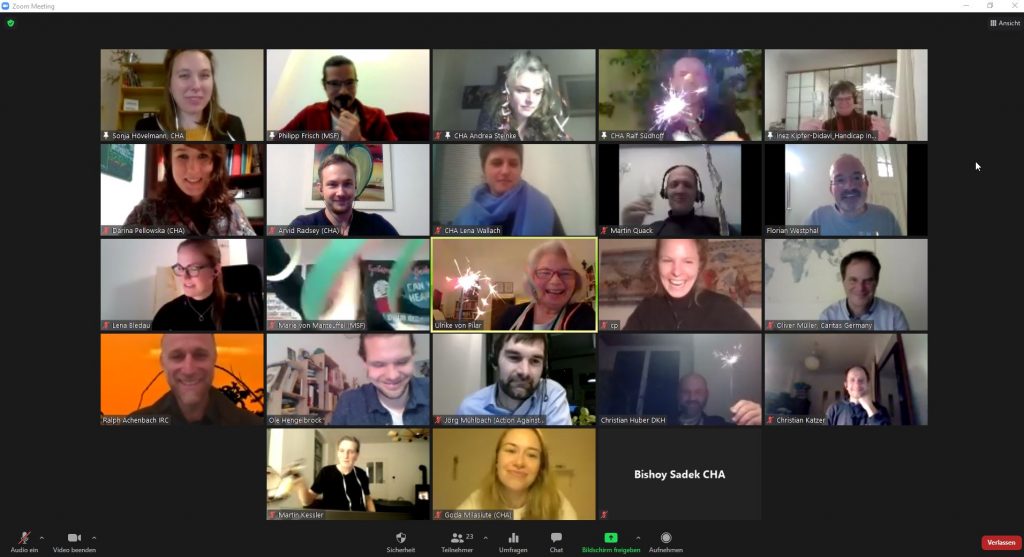 Since 2019, CHA has hosted and co-hosted nearly 50 events, launched 30 publications and blogs, and welcomed nearly 70,000 visitors on its website. In the next phase CHA will follow new plans with additional staff:
CHA's 2019-2021 work plan ends this summer. The Centre's work focused in particular on its priority themes: the question of the strategic capacity of German humanitarian aid, which has achieved further financial records since 2019; the challenges of a "Shrinking Humanitarian Space" in Europe as well as the Global South, which were analysed and debated; and the Triple "Humanitarian-Development-Peace Nexus" and its opportunities and risks in times where about 80% of humanitarian aid is spend in regions affected by war and conflict.
The CHA team continues to welcome input for its work plan until mid-2023. Strategies of German and European humanitarian aid will further on be focus areas, supplemented by localisation as an additional pillar. Furthermore, digitalisation of humanitarian aid and programmes will play a dominant role.
Finally, Germany's first think tank for humanitarian aid will get a new address: CHA e.V., which will be headed by Ralf Südhoff, will be located in Berlin-Mitte on Wallstraße at Spittelmarkt, in the immediate vicinity of numerous German NGOs, UN organisations, the Federal Foreign Office and the BMZ. The success of CHA relies on the encouragement of its partners and fruitful cooperation, without which our baby could never have grown and flourished. From now on, we look forward to this cooperation in our new neighbourhood.